12th Annual
2022 Caribbean Open
(January 13-20, 2022 Golf Trip - Golf for Cash Series!)
3 Day Singles event
Open to all Members and Non Members!

2020 Champion
Albert Devin
(Toronto)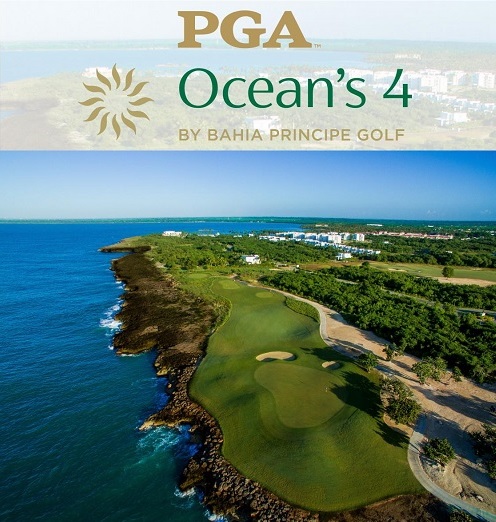 Come join us for only:
(Leaving from Toronto)
$1725.00 - "Deluxe Poolside Junior Suite" Based on Double Occupancy, $100 to Cash Pot! (Call for Single Rate!)
$100 from each Golfers entry fee goes to the Cash Pot!

Non Golf Tournament Rate Only
$1625.00 - Based on Double Occupancy

Hotel: Bahia Principe Luxury Bouganville

, La Romana, Dominican Republic - website Bahia Principe Luxury Bouganville
(I have booked the "Deluxe Poolside Junior Suite" option not the "Deluxe Junior Suite" option)

Golf Course: PGA Oceans 4 Golf Club - Website PGA Ocean's 4 Golf Course

Includes 7 nights, Flight from Toronto, $100 towards Cash Pot, accommodations,
Transfers, Meals, Drinks and all taxes. (All inclusive)
(*unlimited golf $425US or $360US for 4 rounds, The course is a $160 golf course)

Payment schedule:
$300 deposit to confirm your spot, Balance due by Nov 10th

March 2008 Trip (Teeth of the Dog Golf Course)
see: http://www.youtube.com/watch?v=1XUkdHQHmbE


Please book ASAP if you would like to join us so we can book as many as we can until they sell out. Our first "block" has always been the best offer as price go up as availabilty goes down!
Please call if you have any questions!



(click) Register NOW! (click)

(click) 2022 Results (click)
(click) 2020 Results (click)
(click) 2019 Results (click)
(click) 2018 Results (click)
(click) 2017 Results (click)
(click) 2016 Results (click)
(click) 2015 Results (click)
(click) 2014 Results (click)
(click) 2013 Results (click)
(click) 2010 Results (click)
(click) 2009 Results (click)
(click) 2008 Results (click)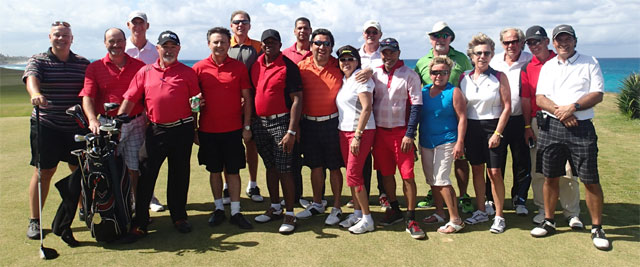 Hotel overview

This hotel bears the most luxurious brand of Bahia Principe, exclusively for adults. At this resort near La Romana, guests will enjoy a select leisure experience and a peaceful atmosphere. Guests of Bahia Principe Luxury Bouganville have access to all of the services & facilities of Bahia Principe Grand La Romana (Except main buffet).

Meal plan type: All-inclusive

Breakfast Daily (Buffet)
Lunch Daily (Buffet, BBQ/Grill)
Dinner Daily (Buffet & ā la carte)
24 hour snacks
Reservation required for ā la carte restaurants
Unlimited a la carte dinner reservations (subject to availability)
24-hour room service
5 restaurants including 2 buffets; 3 a la carte(Asian, gourmet, Brazilian steakhouse); 3 bars

Beverages

Unlimited domestic alcoholic and non-alcoholic beverages (premium drinks available with extra charge)

Activities & Entertainment

2 pools, Select non-motorized water sports, Football, Basketball, Billiards, Volleyball, Table tennis, Tennis, Dance lessons, Daily activities nightly entertainment, Introductory scuba demonstration in pool (once per person per stay and on request),
Organized games and activities, Bicycles, Nighttime entertainment,
Entrance to nightclub at Bahia Principe Village with local drinks and soft drinks














La Romana, Dominican Republic

PGA Oceanīs 4 has a total of 27 holes distributed into two spectacular golf courses; one 18-hole par 72, for intermediate and advanced level players, and another 9-hole short par 27, ideal for children and beginners.

Impressive for its variety, diversity and cool modernity, the 18-hole course was masterfully built and designed by Maverick Golf. It is the second PGA golf course developed by Grupo Piņero, combining the area's most striking elements while meeting its main goal: the enjoyment of all golfers.

The golfing experience is completed by an Academy, a putting green and a Victorian and contemporary Clubhouse with terrace, bar and restaurant.

Thanks to the combination of lush greenery and majestic lakes, along with the proximity of the Caribbean Sea and the tropical forest, a round of golf on this stunning course will leave a lasting impression on you.

The idea of its creator Jack Lund was to combine four different scenarios as play progressed. As a result, the player will find four impressive holes that border the Caribbean Sea, perfectly integrated into the native Caribbean flora, with coconut palms and the characteristic beach grape, white sand and cliff, which, at the same time, give the sensation of playing on the verdant links of Scotland. In addition, the course has four holes surrounded by lakes and beautiful waterfalls, which would fit nicely into a Parkland-style setting, and, finally, another three holes in which the rocks and sand are reminiscent of a desert-style course.

The par-72 course is generally quite wide and exposed to the sea breeze. The distance can be perfectly adjusted to the level of any player, as there are five different starting tees.
---