| | | |
| --- | --- | --- |
| T | our | Championships |
2010 Tour Championships
Legends of Niagara



Friday: Tee Times
Sat/Sun: Tee Times
Tour Finals handicap
(Includes all 2010 rounds)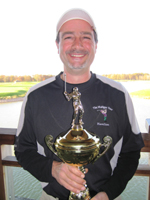 2010 Tour Champion
Mauro Evangelista

2010 Tour Final Results: Day 1 - 2 Day Total
2009 Tour Final Results: Day 1 - 2 Day Total
2008 Tour Final Results: Day 1 - 2 Day Total
2007 Tour Final Results: Day 1 - 2 Day Total
2006 Tour Final Results: Day 1 - 2 Day Total
Prizes:
(Based on 48 Players)
1st Place:

$400 CASH
2nd Place:

$300 CASH
3rd Place:

$200 CASH
4th Place:

$150 CASH
5th Place:

$100 CASH
Location:
The Mulligan Tour Championship 2010 will be played this year at Legends of Niagara Battlefield Golf course located in Niagara Falls, Ont.
Qualifications:
Any Player from any Mulligan Tour Chapter with 6 singles event rounds played will qualify for the Tour Championship. (2 Day events count as 2 rounds) If you have any questions about your qualifying please contact your chapter Director or Tour Headquarters.
Cost/agenda: $200.00 Includes cart, green fees, $35 to cash prizes (practice round extra) Payment must be paid to your local chapter owner or you can use PAY PAL to pay for your event. ($5 Fee)
Oct 15 - Battlefield Golf Course - White Tees
Practiced Round & Skins - 12:00pm - $100 (Cart, green fee, $25 to cash Pot)
Party Night
Oct 16 - Day 1 - 10:30am (Split Tees) - Battlefield Golf Course - White Tees
Players Dinner - Mick & Angelos at 8pm
Party Night
Oct 17 - Day 2 - 10:00am (Split Tees)- Battlefield Golf Course - TBA

Accommodations: (PREFERRED)
Candlelight Inn:
Mulligan Tour players Special Rate is $55+tax per double room, stay 2 nights and the 3rd is FREE. All players staying at the Candlinght Inn will recieve a late check out on Sunday of needed . There are 20 double rooms available (1-4 people) for October 14th 2010 . Our group reservation number is 6200 Contact name is Linda, Contact Phone is 1 800 572 0308. They're website is http://www.candlelightniagara.com
You must confirm your room by Monday October 9th.
You can also go to http://www.niagarafallshotels.com or to find another room in the area at a fair rate!